We're the rebel of the industry. We have created a unique business model where we sell our products as campaigns. This business model allows us to offer you European-produced, sustainable kidswear at a low price.
What is a campaign?
Each product in our shop is called a "campaign". Contrary to what we are used to, the products presented in our online shop are only examples of the products we offer to manufacture. Each campaign will have a two-week funding period to assess the product's demand. If the campaign generates passion among you and enough people buy to fill the minimum production order quantity, we go ahead to production. So, you tell us what to make – there is no inventory to sell piling up in our warehouse.
You show us your voice by supporting the campaign; in other words, buying the product. At this point, you are not paying immediately. We validate your credit card but will charge you only if the campaign successfully hits the funding goal. If the campaign doesn't reach the minimum goal of supporters by the end of the funding period, the campaign gets cancelled, and we do not charge you.
When the campaign ends successfully, the product transfers immediately to production. But we don't leave you hanging by your postal box, waiting for the parcel to arrive. Absolutely not! We've created the opportunity to track the process of production. You can follow where and by whom your item is made. How thrilling is that!
Usually, the production takes 6-8 weeks.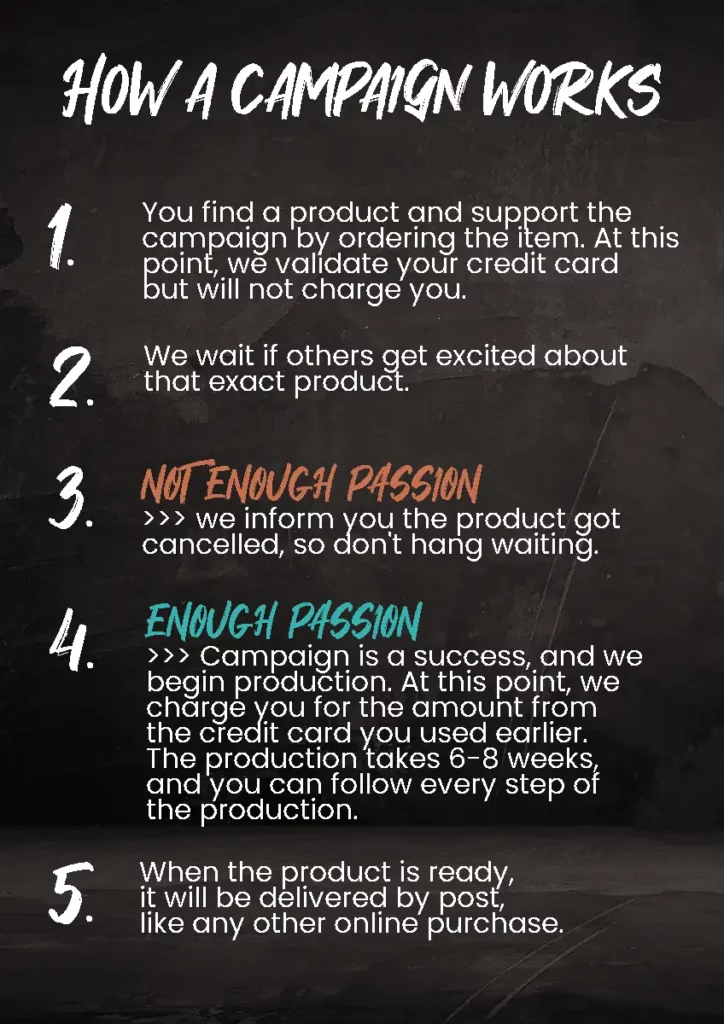 But why?
We need to change our perception of fashion industry. The overproduction of fast fashion is killing our planet. It would take 12 years to recycle what the fashion industry produces in 48 hours. Recycling is not the solution. It is simply a last option.
Our unique campaign model allows us to match supply and demand every time. No oversupply, no stockpiling and no middlemen. This way, we don't need to persuade you to buy something we have already produced. You get what you actually want, not what we think you want.
We need change so that future generations have a place to live. Vermet was created with the children of the future in mind. Let's make a change together.
Shopping with Vermét is a unique experience, but we're here to assist. If you still have questions, pls checkout our FAQ, or drop us a line at help@vermetdesign.com