Are you worried about buying clothes for your child only to have them outgrow their clothing the next season? If so, you're not alone! That's why it's essential to take steps to estimate your child's clothing sizes before you buy anything. By knowing their clothing sizes now, you can plan ahead and prepare your children for the next season—and maybe even get them excited about getting dressed every morning! This article will provide you with the tools and tips to predict your child's clothing sizes accurately.
Oh no, my child has shot up!
Parents always cringe at those magic words: They're growing like weeds! It happens to most children —they shoot up. Most children grow so quickly during their first few years that it's hard to keep track of their size and how many pairs of pants they need.  Predicting your child's clothing sizes can seem like an overwhelming task, but it doesn't have to be! Preparation is the key to your child's wardrobe's successful shopping and styling! Getting organized and prepared with the right tools and information makes this process fun and easy! The better prepared you are the more time you'll save, the less stress you'll feel and the more money you'll save too! By understanding the size and development norms for children, you can use these as a guide to help you with sizing throughout the year.
Plan ahead to save big on children's clothes
Children grow at a very rapid rate in their first year of life. The average child will grow about 25 centimetres in length from birth to age one and the majority of this growth happens during the first six months. But, as you might expect, the growth rate of children is not a one-size-fits-all kind of deal. Different children grow at vastly different rates.
But, you can buy clothes for your children as much as a year in advance, and it's often at great savings!
The trick is to predict your child's clothing sizes for the next seasons as accurately as possible. To make this, you need to uncover the underlying data. You can work out how tall your child will be by using Growth charts. Growth charts consist of a series of percentile curves that illustrate the distribution of selected body measurements in children. The procedure is quite simple with the above tool. You need to submit your child's date of birth, sex, mum's heigh & dad's height. And, to make the prediction even better, it helps to know a few more measurement dates of height & weight.
Measure your child
Another way to determine the next size is to measure your child with a tape measure. The vital measurements are found in our measurement chart.
We have never wrestled a rabid raccoon on speed, but we have tried to take measurements from a four-year-old. So here is a tip: if you already own a garment that fits nice, measure that and compare it to our garment measurements found in individual product pages. What our size is equal to that?
Then, compare your childs measurements to our sizing charts and consider if you should go a size bigger.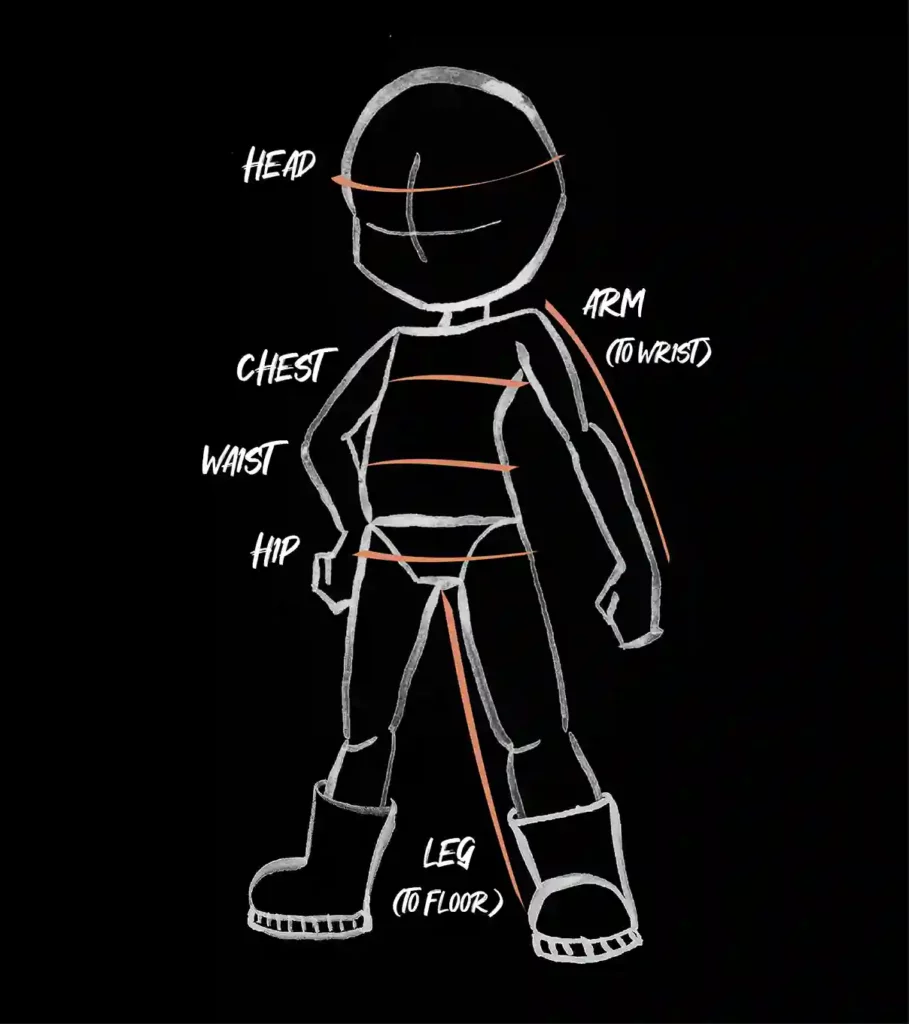 What size should I buy from Vermét?
We design our clothes to last. And they grow with your child as we've added a couple of our favourite ingredients: extra length and double sizes. A "double-size" on each garment means that the product measures and fits as it should on a child of an older age. There are double buttons on babies' bodysuits, sleeves with foldable cuffs and leggings with foldable leg ends which make our clothes fit children longer or give you additional time to figure out how big your baby is getting.
We base our measurements on Scandinavian children's average height and weight in a given age range. If you can't make the most accurate predictions with the above Growth chart tool, to help you out, we have created a chart with some handy children's measurement and age guidelines.
Please remember that Vermét sells clothing with a pre-sale model, and the items are shipped approximately 6-8 weeks after the campaign closes. For this reason, you need to figure out with the above methods your child's current size and what the measure would be in 8-10 weeks. 
Generally, we think a larger size might be a wise choice.
In-between sizes – what now?
If your child is in between sizes or at the top end of the clothing size measurements, it's simple: go with one size up. That will ensure they have room to grow. If you buy them too small, they will be uncomfortable – especially when your child sits down or bends over.
As we've explained, kids change quickly. Just as you want to get a good deal on clothing items they'll wear for at least a few seasons; you also want your children to have clothes that fit well. A size that doesn't quite fit can cause your child to feel self-conscious and uncomfortable.